I will be doing a post on black divas. Well, if the crick don't rise. I've been thinking about them for a couple of months now. This is just a quick note so I won't forget some of what I have been thinking. I was standing in the checkout line at Walmart when I noticed a magazine, something about women's hair (I think black women's hair), and saw a picture of a nice looking ginger complexioned woman on the cover. It took me a minute to realize that this was Lupita Nyong'o. I picked up the magazine and held my hand across the face of the picture, which was a large one, and compared the skin tone. Lupita, in this picture, was lighter than I am. And I am not a particularly dark Negro. I often describe my skin tone as about the color of a penny. And here Lupita is presented as being about that shade or lighter. This hair magazine, iirc, was targeted to black women. [Update: Back in line at Walmart again. The magazine is Sophisticate's Black Hair Styles Guide.]
I wonder what the object was? to make her more appealing to a black demographic by lightening her skin for this cover? That is kind of ironic. So, it is not just mainstream (read "white") magazines that feel they have to lighten the skin of black cover girls to make them more appealing to their audience.
Lupita Nyong'o's star is rising quick, fast and in a hurry! The "12 Years A Slave" actress has already scored a Golden Globe nomination, Oscars nomination, a few magazine covers (see: this and that) and a major fashion campaign. But it's Lupita's most recent accolade that has some people jeering not cheering.

On Wednesday, Vanity Fair proudly announced that the 30-year-old Kenyan beauty was the subject of the Vanities section of its February issue by tweeting out a photo from the editorial.

And while Lupita looks lovely in the image — per usual — some folks were quick to point out that the star's flawless chocolate skin looked lightened in the image.

This isn't the first time questions like this have been asked. Beyoncé and India.Arie are just a few of the black stars who have also found themselves in skin-lightening scandals

[…]
Probably a more accurate representation of Lupita's skin tone on the left.
But then again there are apparently many shades of Lupita.
Also I was wondering…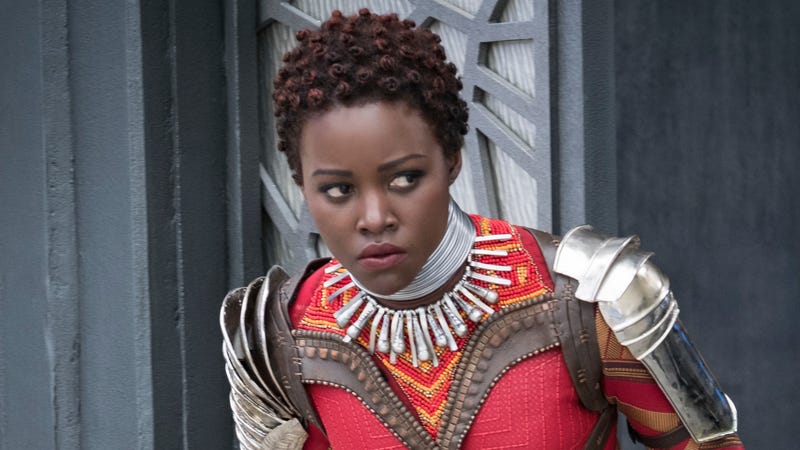 The imaginary African nation of Wakanda is supposedly totally hidden from Western culture and presumably free of its cultural influences. I have not seen the movie so I don't know what the actual degree of Western contact is supposed to be. Perhaps, as Wakandan spy Nakia (agent to US or other Western nations?),  this character picked up the habit of using Western makeup, which is apparent here. Compare "non-madeup" Lupita.